Use DISC Assessments to Understand Career Motivators & Communication Styles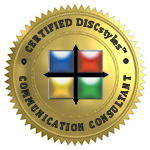 KDB Coaching is an authorized DISC administrator. We partnered with ProfilingPro to provide you with the best assessment tools and reports to support you in your career decisions. A résumé-focused DISC Assessment comes with every complete résumé writing package. However, you may purchase additional DISC reports and coaching services separately or as a package add-on.
I am excited to use career-focused reports and assessments in my practice. In other words, the DISC reports we use focus exclusively on work style, communication style, and strengths related to job search, résumé, and interview topics. Most importantly, you receive a report targeted to your situation, so you know it is practical and reliable.
Kris Drobocky Baitoo is a Certified DISCstyles Communication Consultant or, CDCC through ProfilingPro.
What Is A DISC Assessment?
"DISC is a needs-motivated, observable behavioral profiling system which measures the energy put into approaching problems and challenges."
In short, the report gives you insight into how you may influence and cope with people, what steadies you in facing your environment, and how you go about complying with and justifying rules and details.
The DISC reports provided help identify the significant features of your career story, potential answers for interview questions, how you face challenges under stress (work/managers/home), and give insight into the best environments for you to be successful. Moreover, they provide an interview content roadmap and valided behavioral interview answers and examples.
What DISC Style Is Best?
Like with any assessment tool be it DISC, Myers Briggs, Strengths Finders, there are different attributes and styles. There is no best style and they are not good or bad. It's simply how you do what you as you go through your world.
DiSC stands for Dominance, Influence, Steadiness, and Consciousness. The DISC report identifies which one is your main communication and style characteristic. Our supporting styles influence how we interact, communicate, and act under stress. The DISC Assessments show your dominant trait and provide insight into the strengths and gaps that each emphasizes.
How Do DISC Assessments Help Me In My Job Search?
At KDB Coaching, we use the DISC Assessments in several ways. The primary use is to develop your career story, language, and communication style for your résumé and interview coaching needs. I must understand your style and language so that your résumé and LinkedIn profile are written persuasively. The DISC is a key tool to make that happen.
Secondly, we use the reports is with clients looking at a career change who may not be sure of the direction they wish to go. We offer a specific DISC Assessment for Career Management. This profiles communication style, work environment, management needs, and takes a look at jobs from O*Net that match a client's DiSC style to help point coaching in the right direction. The Career Management assessment is often used for early career candidates and those making a significant career or industry change. For example, if you have a recent college graduate who is struggling with interviewing and the right patch, a DISC session can often bring solutions into focus.
What DISC Assessments I Can Choose From?
Career Management
Self
Values, Motivators, and Preferences
Résumé & Cover Letter
Leadership
360 Review
Sales
Sales IQ Plus
Collaboration
What Do I Get With A DISC Coaching Package?
Each coaching package comes with a 30-minute discovery session to help understand how DISC can best help you and determine the correct report to administer. You are then provided a login to the KDB Online Coaching Portal where you access the DISC Administration tool.
The reports are emailed to you directly after completion and they will also be uploaded into your coaching portal. We will then set a 90-minute appointment to review the DISC in detail.
Schedule Your DISC Review
Please schedule a complimentary consultation to discuss if the DISC is right for you. Our 30-minute session will review the reports available, and we will determine if a self-paced or one-on-one coaching curriculum is best for you. Together, we will determine the next steps.
What Clients are Saying
"There is no one more capable than Kris."

Kris is extremely knowledgeable and insightful about hiring practices and the mindset of recruiters and hiring managers. Her keen insight is incredibly valuable in assessing individual interview skills and potential gaps, leading to greater success by candidates. If you are looking for that next career step but want a bit of assistance, there is no one more capable than Kris.

Jack H., LinkedIn Review