Social Media & LinkedIn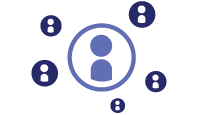 Do you have a professional and complete Linked In profile?  Do you know what images are out there that you have been tagged in?  Is your Facebook profile appropriate?  Do you feel proficient with social media?
If you are already on social media, have your Googled yourself lately?   That's a serious question.  It's not just what you put out there, it is what everyone in your online networks posts that may get stuck to your profile.   Cleaning up your digital footprint is a giant part of your job search strategy, especially if you are a recent grad.
Social media is here to stay.  It is part of your career search strategy and clients are looking.  Now more than ever, it is crucial to understand how you can leverage this resource in a way that is comfortable and appropriate for your career strategy, industry and personal feelings about social media in general.
When it comes to your job search, there is no way you are going to escape social media.   It is not just your own brand and profile information, but in order to succeed in getting the next role, you need to understand how recruiters and companies are utilizing social media for their own candidate searches throughout every phase of the selection process.
About 95% of all recruiters are using Linked In for their searches.   If you were not aware, Linked In sells a platform for companies to use as their internal recruiting technology.  You might not be paying for the service, but someone is…   That said, if you are not on Linked In, you are missing out on a significant opportunity to highlight your background.  Linked In is more than just posting your resume, and KDB Coaching can take you through the profile creation process so that your final profile is your digital portfolio, highlighting your career and industry expertise.
Not sure where to go with your social media and career brand?
Social Media & Career Branding Services:
Overview of current profiles
Discussion and creation of personal career brand strategy
Research into industry appropriate social media resources, groups and networks
Linked In profile creation and / or maintenance packages, includes industry specific keyword and content strategy
Facebook profile review and suggestions
Training on how to maintain and update social media platforms & branding
Contact KDB Coaching today for more information about how we can help you.  If you are ready, take a look at our LinkedIn profile products and book today.